Getting Started with Google+ Communities

Find your niche to influence...
Getting Started with Google+ Communities

Google launched their new Communities feature on December 6th, paving the way to greatly enhance discussions within the Google+ Platform. Somewhat akin to a forum, Communities encourage like minded people to come together around their favorite passions, regardless if it's Interior Design, Sports, Fashion or endless other topics. With 135 Million users active on just the streams and half a billion signed up, Google+ is spreading like wildfire. Now is your chance to get in on some of this new opportunity.
Google+ Communities are still pretty new, so we're going to be learning as we go but here's how things stand right now.
What exactly is a Google+ Community?
First off they are far more dynamic than a traditional forum. They offer real-time communication to everyone within the community or you can post to your wall targeting your community specifically as well. This automatically gives you two outlets for the information you want to push out. It has all the benefits of Google+ with live hangouts, sharing images and so on. It's like they are working to take groups and G+ and sort of meld them together.
There are also both public and private settings for your community, allowing you to tailor it to your needs. You can also set up multiple owners and admins from the get-go.
Note: Communities are still a new feature within G+, so be patient with any bugs you find as Google is obviously still ironing them all out.
Ok, let's jump right in and learn how to setup a new community...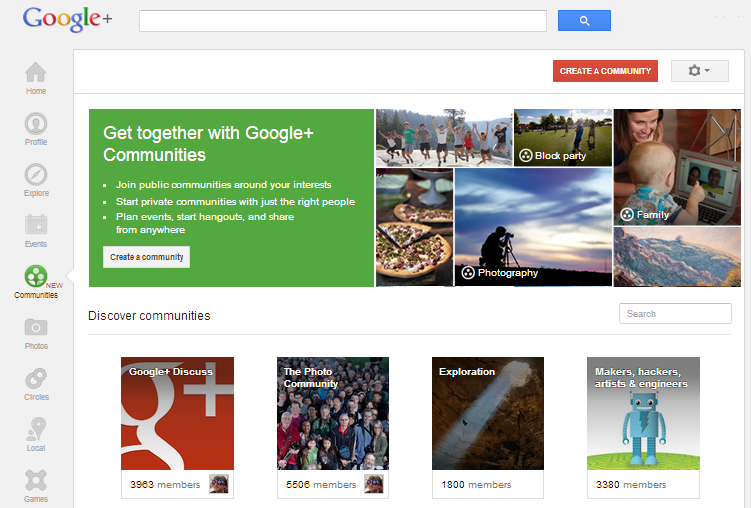 Naming your new Community
Before clicking that little Create a community button, it might not hurt for you to think a little about what you want your community to be about. For our example, we decided to foc...