How do I get more Blog readers?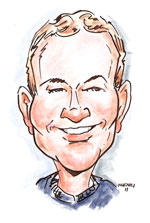 A common question we get here at Search Engine News is from blog owners who are looking to grow their audience. Usually the discussion turns to one of income with the goal of the blog owner being to eventually make some sort of living from their blog either in the form of advertising or affiliate income.
Unfortunately, making the jump from a part-time or recreational blogger to one who hopes to make an income isn't easy. It takes patience, hard work and a solid understanding of your audience.
Most importantly though, blogging is all about one thing: CONTENT! If you are passionate about what you are writing, know what you are blogging about, AND can position yourself (eventually) as a consummate expert in your field, the rest will take care of itself.
Now, we can't write your content for you, but with the right focus and some kick-ass blogging tips from our own on-staff experts, we can definitely get you off on the right foot to eventual blogging fame.
To that end, here are five GREAT tips to jumpstart your professional blogging career:
Killer Tip #1 - Carve out a niche! A blog that has no focus is like a ship without a rudder; it has no clear direction. Find something you are passionate about and become an expert in that area. Become a must-read resource for others that share a similar passion. Even better, take a controversial or contrarian viewpoint of issues within your niche and promote controversy. Controversy leads to traffic, which leads to links, which leads to better search rankings, which leads to more traffic...you get the picture.


Killer Tip #2 - Cater to your Audience! Find out what your audience wants to hear about and engage them. Do you have readers who have something to say? Offer them guest posting options. Do they have suggestions for future blog posts? Use them. And most importantly, make sure you DO NOT require your users to set-up an account to leave a comment; that kills discussion!


Killer Tip #3 - Schedule your success! ...