Manage ALL your social media efforts with Sprout Social!

Manage ALL your social media efforts with Sprout Social!
W

e are a small business currently looking for a social media management tool to manage, monitor and promote our online brand. We looked at your ViralHeat recommendation but we noticed it didn't support LinkedIN or FourSquare and there was no real scheduling option for content creation. Do you have another recommendation that may be a better fit for us?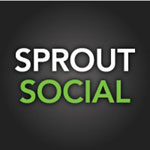 Answer: That's a great question and one that we are getting more and more regularly here at Search Engine News. ViralHeat is a pretty robust enterprise-level, analytics-heavy social media monitoring suite and it has a ton of features as we covered previously here:
Monitor and Track Your Social Media Campaigns with ViralHeat!
However, if you are a small employee operation or just operating profiles for one business, it may not be the best choice for you. Specifically, it lacks both scheduling and promotion tools that are essential to get NEW social media profiles off the ground.
The good news is that we've been experimenting with another social media platform here in-house and we love it. It's called Sprout Social and it may just be the greatest thing since sliced bread! Okay, maybe not that great, but it's pretty cool.
Sprout Social is very beginner-friendly and has a very low learning curve. The software is web-based and can be run from anywhere making it a snap to monitor growth, update profiles, and or share the information with other employees or even interested clients.
Sprout Social allows everyone who signs up to test-dri...