Raise your Klout Score with these 5 Tips!

Raise your Klout Score with these 5 Tips!
K

lout was in the news in February and we like their new interface. We are getting increased questions from our clients regarding how to influence their score. Can you provide us with some tips on how we can naturally raise their scores?
Answer: Klout continues to position itself as THE measure of influence for the social media world and as you stated, they made waves in February. Not only was it announced that they had been acquired by social customer-service company Lithium Technology for $100 million, but they also rolled out a snazzy new interface stacked with new features — the most important being the launch of a new content platform.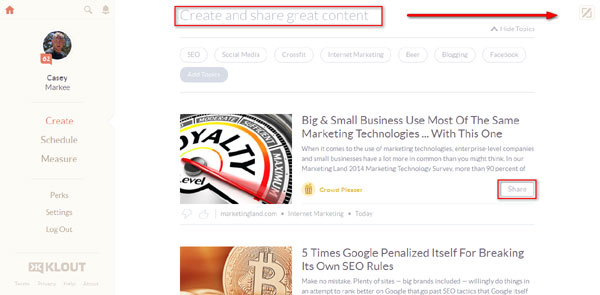 This new platform is Klout's way of addressing a major question by users: How can I directly increase my Klout score? Klout's response is a new interface that makes it easier for users to find and share hot or trending content with their audience, leading to engagement. Engagement, according to Klout (not audience size), is what leads to higher Klout scores.
Briefly, let's discuss how Klout works its magic in the social influence measurement sphere. Klout uses over 400 different variables to rate social accounts from 1-100 in terms of the account's overall reach and online sphere of influence. The higher your Klout score, the stronger your perceived accounts and the wider your social media reach.

Klout calculates a score based on three major metrics including True Reach (the size of your engaged audience)...