The Facebook Like vs. Facebook Share button debate. Which to use?

The Facebook Like vs. Facebook Share button debate. Which to use?
We understand that to best bookmark and share our content on Facebook there are two main options, the Facebook Like button or the Facebook Share button. Is there a benefit to using one over the other? Should we use both?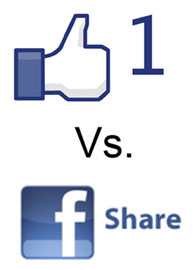 Answer: Integrating Facebook bookmarking into your content is a highly recommended social media strategy. And, as you indicated, there are multiple ways to encourage interaction which can create confusion. Although "Like" and "Share" have many similar features and results, there are definite differences.
The "Like" button was introduced as an integrated part of external Web sites in April 2010. While Facebook users were used to "liking" groups, topics and pages within Facebook. This new capability extended the like button to the greater Internet, potentially opening up every Web site and individual page.
Surfers can now click "like" on any blog post or site page. This positive preference will then show up on their Facebook wall as a tacit recommendation for all their friends to see. As long as the user has been logged into Facebook on that browser, they can complete the entire process without visiting Facebook.
Simply explained, when a visitor clicks "Like", the name of the Web site or post they liked appears instantaneously on their Facebook wall. Likes appear as list items on the Recent Activity section of the Facebook user's wall but NOT as a status update viewable by all in your News Feed.
Here's an example of a "like" in action on my own account recently:

The positive benefits to using the Like button are as follows:
Like is easy to use - just one click sharing.<...