Yext Partners with Amazon to Power Alexa Answers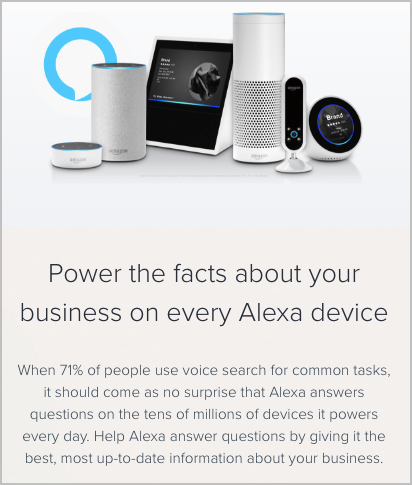 Yext, Inc.'s stock hit a record high when it announced a partnership with Amazon to provide answers about local businesses for Amazon's Alexa. Prior to this, Alexa was providing a lot of its local business answer via Yelp, but that seems to have changed overnight on July 25th:
Today is a quantum leap forward in Yext's mission to give businesses control over their digital knowledge and provide consumers with perfect information everywhere," said Howard Lerman, founder and CEO of Yext. "Amazon has changed the world with its innovative, market-leading voice-enabled devices, the Amazon Echo family of smart speakers, and the Alexa voice service. Now, the tens of millions of consumers who ask Alexa questions can get authoritative answers from the business itself with the Yext Knowledge Engine.
Right now Yext has not published prices on obtaining the services they're describing and instead there is a form to schedule a demo for your brand. So far the local business information Yext has provided are basic details such as location, contact info and hours of operation but that info will grow as the partnership grows. For now, there is no mention of how Yext's current customer base can take advantage of this opportunity but we're sure there will be emails rolling out before long with the option to upgrade. Until then we'll keep watching this progress and will let you know when things change.

...