Yoast v.11 Can & Will Break Your Schema Enabled Website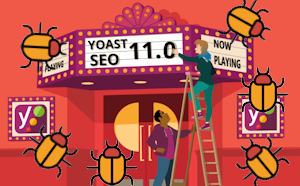 On April 16th Yoast SEO released version 11.0 of their popular WordPress Plugin, which included a big revamp of their Structured Data markup code. The very first thing we noticed is there was no way to turn the Schema markup functions off. Unlike previous versions, V11 generates JSON/LD Structured Data markup throughout the site by default.
On earlier versions, if you chose the Person or Organization option the plugin would generate that specific schema code. If you instead left it on the default Choose whether you're an Organization or Person setting then that meant that no markup was created. It wasn't a perfect system but as you may already know, no markup is better than too much markup. Well, that's all changed with this most recent version of Yoast.
To be clear, when you update your Yoast plugin to version 11 you will automatically generate Structured Data markup site wide and there is currently no easy way to turn it off.
Actionable Strategy — Due to this fact, we are advising you NOT to upgrade your Yoast SEO plugin to version 11. If you do and your site is using any other plugin, such as a Recipe Plugin, or if you've manually added schema to your site - you will have multiple main markup blocks of code that are contradictory such as both Schema.org/Article and Schema.org/Recipe. This schema bloat could result in an immediate loss of all of your rich results.

We are at a loss as to why Yoast wouldn't have anticipated this problem. Surely they aren't so arrogant to think their plugin is the only one the millions of WordPress sites use. Press releases were generated touting that they're the first to offer proper implementation of schema markup while at the same time totally ignoring the use of other plugins on existing websites.

We're just hoping that in the near future they will add the ability to control the generation of schema markup within their plugin. Only then will we consider updating. The good news is that the ability to turn off this code has been escalated to an