How Much SEO Advice Should You Give Away for Free?
One of the most common questions we hear from search engine marketing professionals these days is How much SEO advice should I give away for free?
This is a great question and a VERY popular dilemma with SEOs in general, both for those hanging out their shingle as private SEO consultants, as well as those working within the confines of larger SEO firms. This is something we've even had to grapple with ourselves here at Search Engine News through our own online support SEO help system (where submitted tickets have increased 250% over the last two years).
Most of you reading this have probably experienced a situation where you have received an email, a phone call, a forum post, or even a social media contact "fishing" for information or asking for advice on an issue that may not have a quick answer.
In fact, as we have experienced ourselves in SEO support, we routinely get long multi-part questions from long-term subscribers that require a full site audit to answer. During the time that it may take to answer that question we could write up an article for publication, have a phone consult with two clients, or even get to and address multiple questions from other subscribers. So how much time is too much in these situations?
When thinking about an answer to this, it's best to break up the questions being asked into two categories: General Questions and Specific Questions.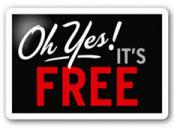 A general question is what we get most in SEO support and which we address, routinely within 72 hours (but usually much faster), to those who use our SEO Tech Help section. These questions can range from "Which directory is the VERY best for me to steer my clients toward?" to "Why are article marketing and blog commenting outdated link building methods?" These are questions which can be answered in a finite amount of time, usually very quickly.
Specific questions are what we routinely get in SEO support by means of our paid Fast Track system. These questions require the payment of a fee but are delivered within 24 hours or are free. These questions can range from "I think I have a Google penalty, can you take a quick look at my site and pinpoint some issues?" to "My competitor just jumped above me in Google for this keyword, can you tell me why?" These types of questions usually require a full site audit and a superior time commitment by the consultant to answer correctly.
As a rule of thumb here at SearchEngineNews.com, and in my own dealings when answering questions of prospective clients or customers, if we can't answer the question within 15-20 minutes, something more "formal" needs to be arranged.
In fact, this appears to be an opinion shared by most SEOs in the industry. Recently, noted search professional Barry Schwartz ran a poll over at Search Engine Roundtable that asked the question: How Much SEO Advice do you Give Before Asking for Money? The poll results are shown below in the pie chart.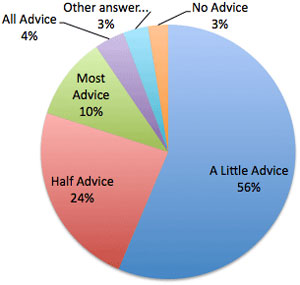 As you can see above, a "little advice" was the overwhelming choice for the 300+ who participated in the poll. Now, to us, "a little advice" is 15-20 minutes. Maybe it's more for you.
In fact, most professional SEOs with more than 10 years of experience won't give clients any advice free until they receive a check. Fortunately, I and most of my Planet Ocean colleagues do not share that opinion. If we can answer your question or provide you detailed information within a "reasonable" amount of time, we'll do it and be happy in the process.
Regardless, what you decide to do may depend on several factors. For example, if you are a relatively new SEO that is just starting out, giving more information to prospective clients to establish initial trust may be required. In contrast, an SEO with 12+ years related experience, multiple LinkedIN recommendations, and who has written 100+ articles for the best SEO publication in the world, may not need to provide as much free information up front (Just sayin!).
In the end, only you know what will work for you. If you want to provide detailed proposals for your client, do it. If you want to instead provide prospective clients with general brush strokes that identify problems BUT provide no specific solutions or actionable advice, that's certainly a valid approach. Just remember, knowledge is INVALUABLE and it's not just what you know, but how to CORRECTLY apply that knowledge.
I'll leave you with this real-life example from a situation that occurred with one of my own clients a couple of years ago. The client contacted me in a frenzy to say that their site had completely disappeared from Google. They were convinced they had a penalty and that I MUST help them immediately. However, they weren't "anxious" to pay me an additional consulting fee which was necessary to expend the resources to review the problem in detail.
Eventually, the customer relented and we scheduled the consultation that same day. After looking at the site I found within 10 minutes that he had accidentally BLOCKED Google from accessing his site completely via his robots.txt file. I directed him to make the change, and his site appeared back in Google the same day.
Instead of being thrilled, the client actually was hesitant to pay the additional fee since I had solved the problem so fast (yes, this really happened). I just replied that it wasn't how long it took to fix the problem it was that I had the knowledge to know WHERE to look to fix the problem. He paid.
---