Are you tracking your press releases in Google Alerts?

Are you tracking your press releases in Google Alerts?
W

hat can we do to make sure our press releases show up on all Google Alerts for

bed and breakfast.

I get the same alert sent to two different emails, but it sometimes doesn't show up in either one.
Answer: It's good to hear that you are interested in getting the most out of Google Alerts with your press releases. Google Alerts is probably the most powerful Google tool out there for site owners looking to monitor their own brand and stay ahead of their competition.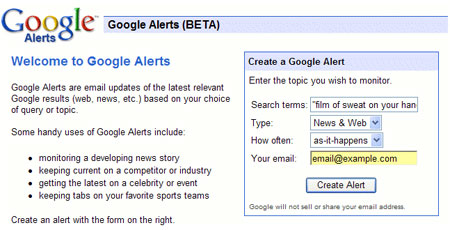 By the way, Google Alerts works best for press releases that actually appear in Google News. One way to be 100% certain your release is appearing in Google News is by distributing it through PRWeb.com or another reputable service that guarantees inclusion into Google News.
For a list of our favorite press release services see our recent report, Everything You Need to Know to Optimize Press Releases for Today's Online Markets.
The above article will also outline the best ways to optimize your press release to ensure it appears in the top ten results for each phrase you enter. If your press releases aren't getting pulled into your Google Alerts, it could be that the release is not showing up high enough in the search results for those keywords.
For example, let's say you set up an alert for the phrase bed and breakfast yet you didn't include that exact phrase within the press release you wrote and distributed.
Guess what? You won't trigger an alert for that phrase.
So...just to be 100% clear, you need to include the EXACT alert phrase you wish to track into your release to get a hit. You'd be surprised at how many users of Google Alerts still make that simple mistake.