Can one Solid Link Boost your search Rankings?

Can one Solid Link Boost your search Rankings?
I

got what I thought was a really strong link from a PR 6 site that is themed to my industry and with my targeted anchor text. However, it's been a week and I still don't see any sort of ranking improvement, though I am getting traffic. Can one solid link boost my rankings?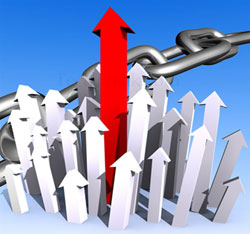 Although Google's algorithm is top secret and updated frequently, backlinks from related Web sites and high PageRank (PR) sites are still a surefire way to increase your search engine rankings. The best backlinks are those, as you've indicated, which contain targeted anchor text pointing back to your site or page. Of course this is usually out of your control. They may select a great keyword or tag your link with anchor text that is not as relevant, which can mitigate any possible ranking boost.
In theory, getting a strong link from a high PR page with the right anchor text should give you an increase in both traffic and organic ranking for that particular keyword. It is possible for one link to move a site positively in the search rankings, but usually it's for a very non-competitive keyword phrase.
For example, let's say you have a party supplies site and you are targeting a relatively non-competitive term like dinosaur party supplies. If you already rank in the Top 15 for this phrase and happen to find a link on a blog having to do with dinosaurs (say http://www.dinosaurfact.net/ which is #7 in Google) and manage to achieve a link back from that site targeting the exact phrase dinosaur party supplies then a very noticeable ranking boost could be the result. In fact, such a link may jump the party supplies site all the way into the Google Top 5 for this result