It's official: bad customer reviews WILL hurt you in Google.

It's official: bad customer reviews WILL hurt you in Google.
I'

ve been hearing lately that Google has tweaked their local reviews algorithm to actually penalize retailers with excessively bad customer reviews. Is that true and what should I do to make sure my local account continues to rank well organically in 2011?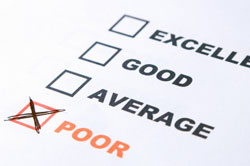 Answer: As an online retailer, good customer reviews can be the difference between a sale and lost customer. But as you've noted, reviews can gum up the works when it comes to organic rankings. The news you've heard lately probably originates from a recent New York Times piece about a retailer taking pride in and encouraging negative reviews, specifically for ranking purposes.
In the piece, the online retailer DecorMyEyes.com, despite bad customer service (and even, in the case of one unlucky customer, stalking, death threats and fraud) was ranking first on Google for several related keyword terms. The business owner (Vitaly Borker) encouraged bad reviews and claimed that the reviews where helping him rank well.
Not surprisingly, Google had a swift response. According to their official blog, they researched the issue immediately after the article published, discovered it was a fringe case and made algorithmic changes in order to correct the problem. As stated by G...