Need local citation sources? Use this free tool!

Need local citation sources? Use this free tool!
I

'm currently trying to raise the Google Places local account for a client in a competitive niche. I understand that getting more citation sources will help, however manually finding these really slows me down. Is there a tool out there that can speed this research up?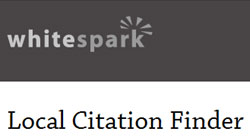 Answer: You are correct: finding local citation sources is the fastest and most effective way to raise a client's profile in a competitive Google Places niche. Unfortunately, finding these citation sources usually means visiting the various competitors listed within your local industry and visually inspecting each one for the individual review sources returned.
Citation sources, also known as local client reviews or local directory results, are something we have covered repeatedly here at Search Engine News, most recently in our detailed report titled Top Review Sites Can Make or Break Your Online Reputation.
As you have stated, it's an accepted fact that the more of these citations you can generate on your Google Places account, the greater chance your local results will rank competitively. Unfortunately, this type of local citation research used to be very time-consuming and research intensive...until now.
Enter the Local Citation Finder from Canada-based SEM firm Whitespark. The free tool launched in August 2010 simplifies the process of citation research by allowing users to perform keyword-based local modified keyword searches that return a list of known citation direct...