No, Sponsored and Advertorial Content is NOT "Natural" Link Building!

No, Sponsored and Advertorial Content is NOT "Natural" Link Building!
O

ur SEO firm has been using sponsored posts and advertorial content as their main vehicle to build in "natural" links to our site. Although they have told us that Google has lessened their stance on these vehicles we aren't convinced. The posts and content do have disclaimers but they are all still dofollow links. Is this is a safe and valid technique?
Answer: Your SEO is incorrect AND could absolutely be harming you! Sponsored and advertorial content is NOT natural link building.
Natural link building arises when a blogger or site owner naturally and without any influence on your part chooses to link to your site at their editorial discretion. No exchange of services, product or compensation is ever involved in influencing that decision. Bottom line: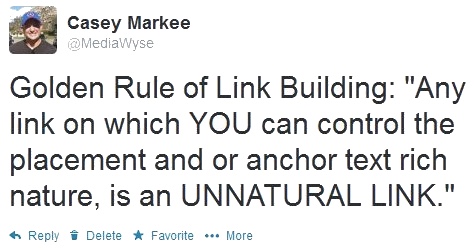 When Google first went after advertorial and sponsored posts in February 2013 they were very clear why this technique was against Google guidelines:
Please be wary if someone approaches you and wants to pay you for links or "advertorial" pages on your site that pass PageRank. Selling links (or entire advertorial pages with embedded links) that pass PageRank violates our quality guidelines, and Google does take action on such violations. The consequences for a link selling site start with losing trust in Google's search results, as well as reduction of the site's visible PageRank in the Google Toolbar. The consequences can also include lower rankings for that site in Google's search results.
And...
Advertorials or native advertising where payment is received for articles that include links that pass PageRank
Recently, in March 2016, Google made its most vocal statement yet on the topic of sponsored and adv...