What does the new Diggbar mean for my SMO efforts on Digg?

What does the new Diggbar mean for my SMO efforts on Digg?

Y

ou've highly recommended Digg in the past, so I've followed your advice. However, does their new toolbar destroy all/most of the SEO benefits? Does it matter?
Answer: When the new tool "Diggbar" was released on April 2, 2009, there was a lot NOT to like about it. Although Digg's made positive revisions to their toolbar since the release, they still have a ways to go. Initially, Digg used the new Diggbar tool to seize all incoming links and direct all the valuable link juice back to Digg's main site.
Then there were instances when the shortened URL assigned by Digg's toolbar was actually outranking the original URL source of the promoted article.
Here's what the url for SearchEngineNews.com would look like after it was shortened by the Diggbar — http://digg.com/u12QVz This was obviously a concern if you wanted to actually leverage Digg to build links directly into your own content and not Digg itself.
click on image for a larger view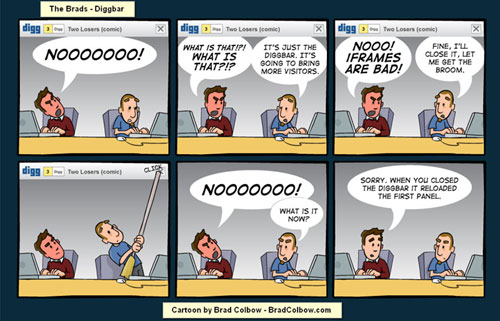 After much heated outcry, Digg has now corrected these issues and made the following positive changes:
All Digg shortened URLs now have 301 redirects to pass along all PageRank and link juice directly to the publisher's original site or article.


The Digg Bar no longer appears to users who are not logged-in to their own Digg accounts.
However, even with the above changes in place, we believe the Digg Bar still has some definate drawbacks...