7 Little-Known Tricks to Maximize Your Facebook Page
If you're like most marketers, you probably have a love-hate relationship with Facebook. Yet there's no denying that the social networking behemoth is a great addition to your digital marketing presence, allowing you to expand your reach, increase your engagement and drive more people back to your website.
Facebook changes features and functionality on what seems like a weekly basis, so it can certainly be difficult to keep up with what's new. And as a result of a slew of recent changes, you may not have noticed a number of updated features that give you more control over your Facebook page - and, by extension, your Facebook marketing efforts.
Consider this your cheat sheet. If you're not already putting these features to work for your Facebook page, now's a great time to start.
7 Little-Known Tricks to Maximize Your Facebook Page
Organic vs. Viral Visibility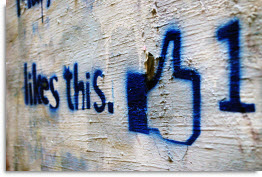 Stats are a goldmine for marketers. And Facebook provides no shortage of data and insights that can help you track how your Facebook content resonates with your audience, as well as what types of post spark the most engagement. You can also see how many people have viewed your Facebook posts organically (your page's fans) and virally (friends of your fans). Simply hover over the "_. people saw this post" link below your page post to see the count. Regularly checking out these numbers can help you fine-tune your content to consistently post information that resonates not only with your page's audience, but with their connections, too.
Reposition Facebook Photos
Whether you love or hate Timeline, you can't deny that it's a much more visual experience for Facebook users. That being said, a photo may sometimes not appear as you'd envisioned because of the site's automatic cropping and positioning parameters. The good news? You've got control! Go to your post and click the pencil icon in the top right corner. Select Reposition photo, then use your mouse to better align the photo within the space provided. This is a great trick for the default photo size, as well as photos that you enlarge by highlighting the post.
Schedule Facebook Posts
I don't advocate automating your entire social presence (after all, you're not a robot - you're a person!) But the ability to schedule posts can save you a great deal of time and make sure your page is covered during traditional downtimes like evenings and weekends (which is when a lot of page admins see increased Facebook traffic). To schedule a post, make sure you're in your page's admin view (where you can see insights at the top and your page posts below). If you switch over to your page's News Feed and try to post from there, you won't be able to schedule. Under the status window, you'll see a clock. Click and add the year, month, date and time you want your post to publish. Once you're done, a window will pop up that confirms the update has been scheduled.
If you're interested in Planet Ocean experts' direct recommendation on the Social Media Tools that we use most then be sure to check out this post as well. The Top Social Media Tools You Can't Afford to be Without!
Define Facebook Admin Roles
If you work with a team of people to manage Facebook pages, you'll want to take advantage of the more recent admin role functionality. Facebook has defined several roles: manager, content creator, moderator, advertiser and insights analyst. Each role comes with a varying number of responsibilities, with managers having complete access to all tasks (pictured below).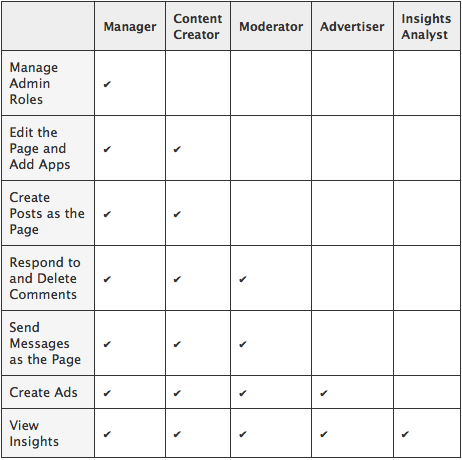 This way, you can ensure that your admin team can fulfill various page-related tasks, but perhaps it's not appropriate for every member to have full-fledged access.
Customize Your Facebook Links
It's happened to all of us. You find the perfect link, copy and paste it into the status update window, and bam - the meta data leaves a lot to be desired. Facebook automatically imports this information from the source, and although you can't change a link's thumbnail, you can edit the title and description. When the link preview pops up under your status window, simply double-click the headline and description text and you'll be able to make edits as needed. This might seem like a small adjustment to make, but let's face it - everything you post on your Facebook page counts. And the more polished and enticing the information is, the more engagement you'll likely see.
Highlight Fan Posts
One of the more consistent complaints with Timeline is that it consolidates fan posts into one window on the side of the page, rather than interspersing them on the page's main feed. Just as you might highlight a status update, you can highlight fan posts, too, and draw more attention to user-generated content. Click the wall posts box, select the post you want to highlight and click the X in the right corner to select Highlighted on Page. Not only does this feature give your page some increased content diversity, but also signals to your fans that you're paying attention to their content - and appreciate their contributions to your page.
See Page Likes
Getting people to like your Facebook page is the key to a robust presence and an engaged community. Yet it's also important that you, as a Facebook page, like other pages - and they return the favor. Not only does this increase the size of your Facebook audience, but it creates a more robust news feed and allows you to more easily share updates and activity from other pages. To see which pages have liked your page (and so you can return the favor, if applicable), go to New Likes in your admin panel. Click See All, then go to the top left and change from People to Pages.
You've likely heard the saying "the devil is in the details." And Facebook marketing is no exception. By incorporating these tips into your Facebook strategy, you'll make subtle yet noticeable improvements to your page - and continue to know more about your audience, too. When you factor in Facebook's fast-moving stream and continually growing user base that's approaching 1 billion people, you need all of the competitive advantages you can get to make your Facebook page stand out in a crowd.
Have you discovered any other little known Facebook tips or tricks that have improved your Facebook marketing efforts?
Brought to you by the experts at SearchEngineNews.com. Who have had their finger on the pulse of the SEO industry for 16 years. Reading every mainstream blog, talking with industry insiders and separating what works from what doesn't - ALL so you don't have to. Learn more and qualify for a FREE copy of their Award Winning SEO Book Today!
---