How to Shift to the New 'Enhanced Campaigns' AdWords Interface Without Losing Your Shirt

How to Shift to the New 'Enhanced Campaigns' AdWords Interface Without Losing Your Shirt
Google rolled out an update to their AdWords system that affects every advertiser across the board. Google is calling this update Enhanced Campaigns and it was launched this month with the PR spin of allowing businesses to stay connected on the growing myriad of devices users are suddenly leveraging within their daily lives. See Google's video advertisement for this upgrade to their system below:
The fact is that YES! mobile devices have outgrown desktop use and that translates to more mobile searches (ie: smartphones, tablets, ipods, etc).
"In fact, a recent study of multi-device consumers found that 90% move sequentially between several screens to accomplish a task."
Google's business model is based around monetizing searches done on their system and since mobile searches are dramatically growing then ads within those systems need to grow with them. A study by Marin Software also supports the growing number of mobile searches here.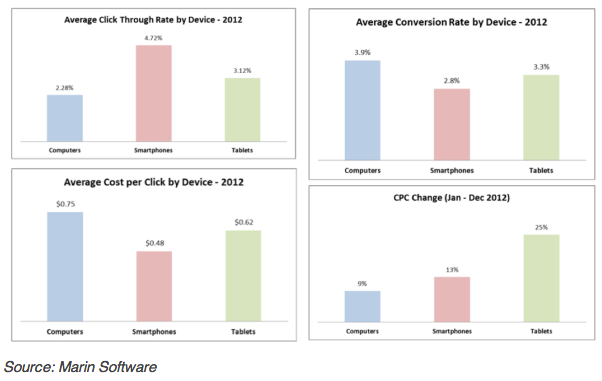 The issue is that many advertisers (the average small to medium business owners) haven't embraced the importance of mobile campaigns and the savvy PPC managers have. This means less competition on the keyword level for higher converting keywords and less money for Google. The value of being able to really target your audience with mobile only campaigns is HUGE...or was I should say.
So, what's Google's solution to this issue? Why, opt every AdWords user into a platform on the same level, dumb down the level of control advertisers have in the name of ease of use and try to sugarcoat it with s...