Boost your Link Building by Converting Brand Mentions!

Boost your Link Building by Converting Brand Mentions!
W

e've heard that converting brand mentions into links can be a quick win for our clients on the link building front. However, it's not a strategy with which we are very familiar. Can you provide some background and best practices in how we can leverage this for our clients?
Answer: If you had the good fortune of attending our Advanced SEO Training at SEN, you know that our discussion of Brand Mentions as a link building tool is something by which our members always find good success. For those of you who didn't have the pleasure, let's start with a definition:
"A brand mention is a repetition of your name or Website, usually unlinked, that appears regularly on the Internet."
Every day individuals and companies accumulate unlinked mentions of their name, business, or URL across the Internet. These unlinked mentions can be a gold mine for link builders who can find the mentions, perform simple outreach to the site owners, and respectfully request that these mentions be turned into live links.
For example, we here at SearchEngineNews.com are quoted or referenced by both subscribers and outside sources regularly. Here's an example from last March from subscriber David Hall of Infinity Dental Web.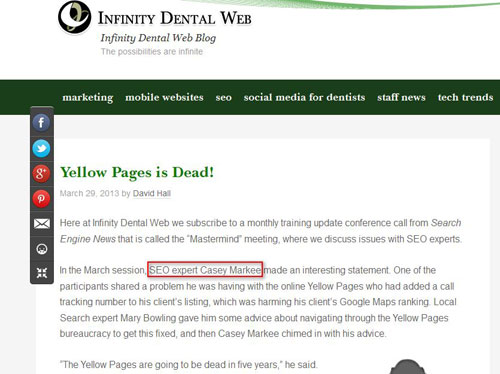 A simple outreach email to David converts that unlinked mention to an active anchor-text rich link: