Do Backlinks from Unrelated Sites Hurt you?

Do Backlinks from Unrelated Sites Hurt you?
M

y client has been doing their own link building, throwing a wide net and getting links from many unrelated sites and forums. My understanding is that this is a bad approach and that we need to seek out niche-related links where possible. What do you say?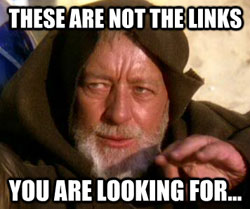 Answer: Your understanding is correct. Casting a "wide net" is usually the wrong approach to link fishing. Things like blog commenting, forum posting, signature links, and even articles are all examples of link categories that have been completely devalued in a post-Penguin world.
In fact, a great maxim to remember when talking to your clients about link building is the following:
"The easier it is to get a link, the more likely that link has little value."
Google's recent shift in what constitutes quality, natural link building, has eliminated a ton of linking types and practices that no longer have any value, including:
Forum and discussion board comments and signature links.
Embedded press release links

(both branded and anchor text rich)

.
Purchased links

(now including Advertorials)

.
Large scale guest posting links

(especially on low-quality sites)

Links requiring an exchange

(includes reciprocal, product & service review links)

.
Mass article submission links with anchor text rich links.
Low quality directory, bookmarking, or links page links.
Excessive cross-linking between sites you control.
The use of widgets for link building

(even when varying the anchor text)

.
"Design by" or "Work by" creative links

(especially in footers)

.
If you look at the list above you'll notice that most of those classes fall into the