Getting Your Business Started with Pinterest

Get signed up - Get set up - Get serious
How to Get Your Business Started with Pinterest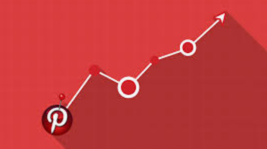 Pinterest isn't all about home organization and recipes. Today's Pinterest is one of the fastest growing social platforms online that caters to everything from automotive parts to cool light bulbs. So, regardless of your industry, you have potential customers on Pinterest and it's time to tap into this captive audience as part of your business strategy.
According to later.com half of all U.S. millennials use Pinterest every single month (that was before the pandemic made some Pinterest topics jump in popularity by 1,300%) and of those 300 million active monthly users, 66% are female aged 25-54. This is the largest buying demographic online! According to Pinterest stats...
84% of its users are using the platform to decide what to buy and 98% have tried something new they found on Pinterest.
A quick look at how Pinterest works
If you've used Pinterest, then you know that it's addictive! You can quickly jump from Pinning a picture of a dreamy beach in Mexico to organizing a 3-week trip to The Mayan Riveria, complete with packing hacks, outfit plans, eating out guides and Italian lingo cheat-sheets.
Pinterest's winning formula is the simplicity of its brand concept. The idea is that users get onto Pinterest and then create virtual bulletin boards and pin things onto them. So, if you've ever done, or heard of, a dream board then you've just been introduced to its trendy virtual rebirth. It's essentially broken down into these four simple features: Search, Feed, PINs and Boards. Here's a quick overview of each of those.
Pinterest Search is ...