Issues a Clear Warning Regarding the Disavow Links Tool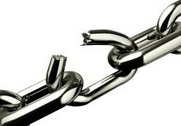 The new Disavow Links tool has Webmasters eager to put it to use. So much so that there are even reports of one webmaster who went so far as to disavow 100% of the links reported in Webmaster Tools. The results of this dramatic move came in 3 weeks later when a shocked webmaster read Google's response to his reconsideration request telling him he was still in violation due to bad links.
Now, we can argue that he went to the extreme and it failed because there are links coming into sites that are NOT reported in Webmaster Tools. Regardless, this is just one reason why you need to approach this tool with caution. Not only could it be a waste of time, as the actual benefits haven't been documented, but it can also do big damage to your link profile.
We outlined the exact steps to using the tool and it's on the technical side. One wrong move on this and you could accidentally disavow links that you didn't mean to, effectively erasing the hard work and time it took to get those links.
Matt Cutts went over this tool in his Pubcon presentation and below is a screen grab of one the slides (you can see the full slide deck here).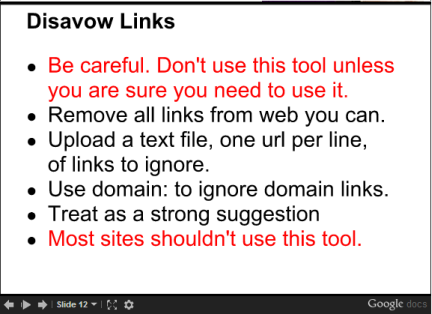 Matt also released this 9 minute video on the Disavow Links Tool that is worth watching. He goes over how to use the tool and adds his own warning going over when you should or shouldn't use it.
Now, if you're struggling with a negative backlink profile then this tool should be the LAST place you turn. Instead use the following resources to navigate your way out of this problem.