Get the most out of Google Buzz with these 5 recommended tools.

Get the most out of Google Buzz with these 5 recommended tools.
I

love Google Buzz and have been using it regularly. I added your recommended Google Buzz plug-in to my Wordpress blog and that's been working great. What other tools can you recommend I use so that I can get the most out of Google Buzz in the future?
There are literally dozens of tools that have popped up to help users more effectively manage Google Buzz. After polling the staff at SearchEngineNews.com we recommend these top five tools to further enhance your Buzz experience: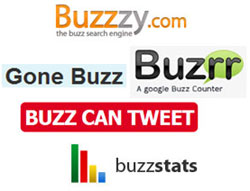 1. Buzz Can Tweet: Any tool that reduces repetitive work is a good thing. This tool is perfect for anyone who wants to manage Twitter and Google Buzz concurrently. When you sign up for Buzz Can Tweet you can send your Buzz updates to your Twitter account. When you post an update on Buzz, it will automatically post to Twitter with a link back to your Buzz account. This makes it easier to share pictures and video (which Buzz allows) without requiring your Twitter followers to join you on Buzz. You can also customize your account so only specific updates will be sent to Twitter.


2. Buzzzy.com: Buzzzy.com is a web search tool that is specifically used to search through Google Buzz updates. If you've used the Twitter's advanced search tool before, you'll be familiar with Buzzzy's interface. When you search for a keyword, the tool will create a list of users who have recently posted about the search query in Buzz.


3. BuzzStats: This utility will help you manage your own Buzz popularity as well as locate power users with whom you can connect. Make sure yo...