How do I view Google Results in other Countries?

How do I view Google Results in other Countries?
A

customer wants to know if firms in other countries are using his brands in Google AdWords or in organic search. Is there any tool that is able to complete a search in France when you are from Germany, for example?
Answer: If you are fortunate to be based in the United States, viewing country-specific search results is as easy as visiting them directly from your browser window. For example if you wanted to see Google UK results you just visit www.google.co.uk and search away.
Unfortunately, for Google users in other countries, it's not as easy. Google pushes country-specific search whenever possible; for example, UK-based searches always get redirected to Google UK and Germany-based searchers get redirected to Google Deutschland.
To combat this, your client can use a US-based proxy site like US Web Proxy or Proxy USA, which emulates a US-based search and allows you to bypass the IP redirect targeting that Google uses for in-country Google users like your client.
However, the easiest option is to use a Firefox and Chrome browser add-on that allows users to replicate query searches in country-specific Google indices right from the browser window. The plugin we recommend here is maintained by Redfly Marketing and is called the SEO Global for Google Search Extension. Here's a simple view of the plugin screen: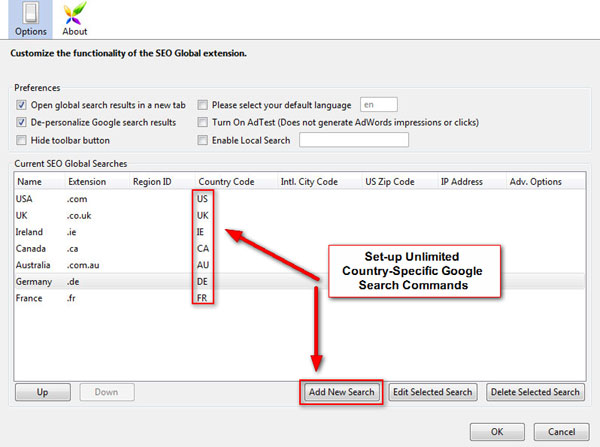 The plug-in is easy to navigate and can be used from either the context menu