How do you handle pages translated into multiple languages?

How do you handle pages translated into multiple languages?
M

y client has pages of content on their Web site that contain multiple languages (Italian and English). We have been advising them that this can confuse Google and they should separate the info out into unique pages. Is this correct and can you tell us how Google handles this situation?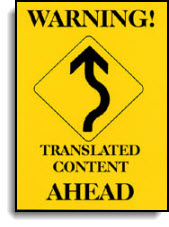 In this day and age it's not uncommon for Web sites to feature content in multiple languages. We live in a global economy and for many business owners, hosting multiple languages on one page seems to be a simple solution to make room for all of their potential worldwide visitors. Although this might seem to be a good solution, as you've pointed out, it can cause problems with Google.
When Google classifies Web sites and determines how they'll be delivered in search, they first crawl the on-page content and select the dominant language represented on the page. Then they geo-target the page to the appropriate language index. For example, if the dominant language is English, the page will be delivered when a user searches on the regular Google.com site. If the page is predominantly in French, it's geo-targeted to Google.fr instead. However, when the page content is muddled with multiple languages, this can prevent Google from linguistically classifying the page correctly. This is what causes improper indexing, which can then result in the site not ranking well in either language or country-specific index.
To combat this possibility, a recent Google Webmaster Help thread on the issue recommends that you use one language per page, for everything from the title tags to the actual on-page content. Further, it's recommended that you use page-URL structure to differentiate between the two (or more) versions of the translated site content. For example, if you need a page of content in English and one in Spanish you might use the following ...