How to Gain Top Rankings on Apple Maps Using Yelp

How to Gain Top Rankings on Apple Maps Using Yelp
—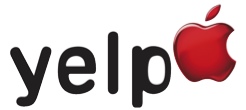 Apple Maps is currently the default map system for several hundred million devices world wide. While the Apple Maps ranking algorithm is too new to really know much about it I also know from experience the success a top listing can bring to a local business. So what's the key to getting your local business listed within Apple Maps?...surprisingly it's Yelp.
If you've spent any time on Apple Maps or used Siri, Apple's conversational iOS search assistant, then you already know that they both use Yelp as THE go-to source for data on local businesses. However, a top listing at Yelp also comes with 2 added benefits that shouldn't be ignored. Those include:
1. Bing's Local Listings - Much of what you see in Bing's local listings these days comes directly from Yelp.
2. Yelp Users - Remember Yelp's own large database of active users to the mix, which they claim their apps are installed on 8 million smartphones and that 45% of the searches made on Yelp come from those app users.
All of these benefits make it easy to understand why I believe that Yelp is one of the best places (next to Google) that any local business can focus when looking for a solid return on investment.
Now the big question is - How can you help your business rank better on Yelp? In one word...reviews!
Be Sure Your Yelp Listing is Claimed, Accurate and NOT Duplicated
However, before you get too focused on reviews it's vital that you take the time to be sure that your Yelp listing is accurate and up to date. You also need to be aware that, unlike many local directory sites, Yelp does NOT require verification before allowing users to post a new business listing. This leads to duplicate listings, which can be damaging to your business. They split up your reviews, confuse customers and can even compete with each other for rankings.
Yelp's community managers are supposed to manage duplicates, but we wouldn't recommend relying on that. You need to actively check for duplicate listings o...