How to turn off Google personalized search...even when you are signed out.

How to turn off Google personalized search...even when you are signed out.
E

ven when I'm signed out of Google personalized search, my Google results seem to be vastly different than those on a computer right next to me. I know that Google is moving towards 100% personalized results, but is there a way to make sure I see results that the vast majority of users are seeing, regardless of location?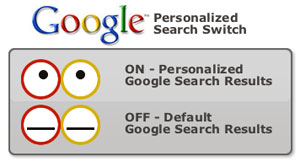 Answer: Google personalized search is definitely the future of search results, which can be a problem if you want to get results based on the average user versus you specifically. Personalized search is accomplished through a number of different factors including Web history, geographic location and browser search preferences (i.e. signed-in or out of Google accounts).
Personalized search first appeared only for users who were signed into their Google accounts. However, in December of 2009, Google announced that personalized search would now be used on all users, signed in or not. The service uses a specialized cookie on your browser and creates results based on the last 180 days of search. If you want to see how Google has customized your searches, you can click on the Web History link on the top right of the search engine results page (NOTE: this link only appears if the Web History service is enabled in your Google Account Settings).
Google provides users an easy 3-step process to delete their Web history at any time, first make sure you are logged in then:
1. Click on the Search Settings link from the Google home page.
2. Select Google Account Settings from the dropdown menu.
3. Click Edit next to 'My products.'
4. Click Delete Web History. Make sure you're signed in to your Google Account to see the My Account link.
It's worth ...