Hummingbird Caged: How to Prepare your Site and Content for 2014

Hummingbird Caged: How to Prepare your Site and Content for 2014
Unless you've been living under a rock you've heard about a little change to Google's search platform called Hummingbird. Publically announced by Google in September in the Menlo Park, CA garage where it all began 15 years ago, the new algorithm is the most significant update since 2010's "Caffeine" and THE most significant change to search in general since 2001.
As we covered in our October SEN Update The Future of Search has a Name and it's Hummingbird, this change to the algorithm was announced to have affected 90% of total search queries and was discovered to have been live for several weeks preceding the formal announcement.
What is Google's Hummingbird?
One of the main thrusts of the new update was to "turbo-boost" the knowledge graph, which is now relevant for more queries than ever before. However, the knowledge graph is just one of 200+ factors that make up Google's Hummingbird algorithm, which was an infrastructural change to the very platform that makes Google work. So what does a Hummingbird look like? At the recent Pubcon Las Vegas search conference Google Engineer Matt Cutts spoke in detail about Hummingbird in his keynote, calling it a "Moonshot" change.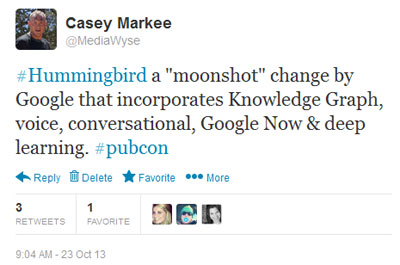 Cutts said that Hummingbird is a natural evolution of search and that the goal of the update is to better reflect real-world search queries by incorporating voice search (through Google Now), conversational search, increased knowledge graph matches and machine deep learning. Hummingbird is not a penalty-based change with Google. Sites that reported they had "suffered losses in traffic or rankings" as a result of Hummingbird have a clear deficiency in their understanding of the algorithm. Hummingbird can be viewed as a change in the platform of Google search, a completely new engine that makes Google what it is.
Hummingbird is in cont...