Pro's Guide to Understanding & Using Structured Data for Rich Search Results

Make your site A.I. friendly & increase your click through rates!
Pro's Guide to Understanding & Using Structured Data for Rich Search Results
We've all seen enhanced search results with additional features such as reviews, prices, recipes and events included with some of Google's search listings. These special search listings are what Google calls Rich Results and they are as eye catching as a huge billboard on a quiet stretch of road.

Product Rich Result
with Aggregate Ratings - Pricing - Stock Status - Breadcrumbs
Those eye catching Rich Results not only improve traffic to your site, but that high click through rate (CTR) is also a great quality signal for Google to see.
By now you know what Google Knowledge Graph results look like. If not then just do a search for any major brand and you'll see their full details on the right of the search results. The Knowledge Panels include tons of company data like their phone number, company logo, links to their social profiles, etc.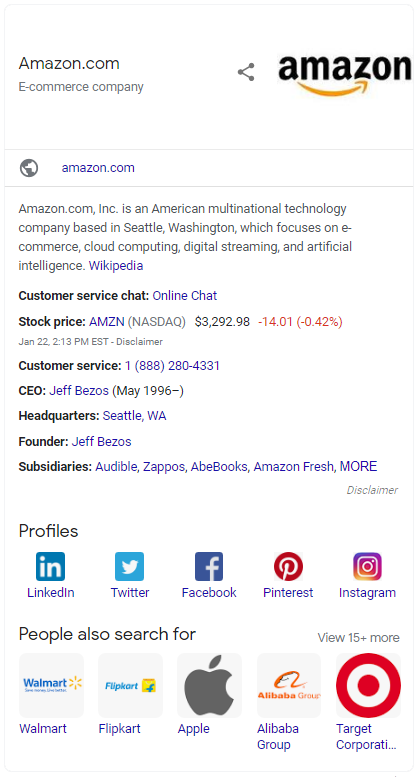 Example Amazon Knowledge Graph Listing
Rich Results, Knowledge Graph and other enhanced search results are all features you can get with the addition of Schema formatted Structured Data Markup of your website content.
With Schema markup you can -
Generate Rich Search Results such as Ratings, Prices, Stock Status, Events, Recipes, Breadcrumbs, Carousel Listings, Q&A Listings, Sitelink Search Boxes and more.
Drive data into Google's Knowledge Graph & Maps such as social profiles, contact information, logos and more.
Improve search engine understanding of your content.
Structured Data Markup makes your content Machine Readable Data
Since the