Should you still be Running Ranking Reports for your Clients? Yes!

Should you still be Running Ranking Reports for your Clients? Yes!
W

ith Raven Tools getting its API slapped by Google last December we lost our ability to run ranking reports for clients. We moved to MicroSiteMasters and are using them now but who knows how long before they lose their API access as well. Are SEO ranking reports going the way of the dinosaur? Should we be preparing for the complete loss of ranking data from Google sometime soon?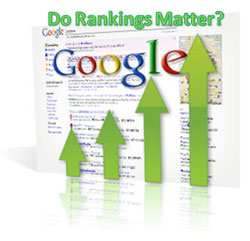 Answer: There has certainly been a lot of debate in the SEO industry lately about the perceived death of ranking reports in general. The most popular recent write-up was by the noted Jill Whalen of HighRankings.com. Her piece, entitled Why Running Ranking Report's is a Fool's Errand, got a lot of play in SEO circles last December.
In the piece Jill argued that the recent trend by Google to shut off API access to major SEO tools companies (including SEOMoz, Market Samurai, and Raven Tools) was actually the best thing that could happen to the SEO industry. Why? Jill argued that because search rankings are so highly personalized they are notoriously unreliable. High rankings don't necessarily lead to more traffic, or increased sales AND they can trigger automatic query penalties.
Now, with all respect to Jill and her staff there at HighRankings.com, and although she makes some very valid points, we don't agree that ranking reports are going to go the way of the dinosaur anytime soon!
In fact, to the contrary, our evidence shows that ranking reports ARE as important now as they h...