The Latest Growth in Local Search

Recently the Local Search Association (previously known as the Yellow Pages Association until April 2011) released a report called the "State of Local Search". This study (based on data from comeScore) shows huge growth in all areas of local search.
If you're a stats junky, then you're going to love these tidbits about how things are going. They're also priceless assests when it comes to informing clients about the importance of adding local search to their budgets.
Search engines make up 74% of local search volume with the rest going to Internet Yellow Pages and similar sites. In January 2011 there were 2.3 billion local search queries through search engines, with a large portion going to Google. The Internet Yellow Pages pages totaled over 400 million queries in the same month, and 5.6 billion searches in 2010.
Mobile Search...
Mobile search has been growing for a long time, and last year was no exception as...
95% of smartphone users performed local searches on their devices.
And the number of mobile users accessing local information has grown 34% from last year, as well as how often they search. The number of users that search almost every day or more has increased by 20% while less frequent search categories have dropped: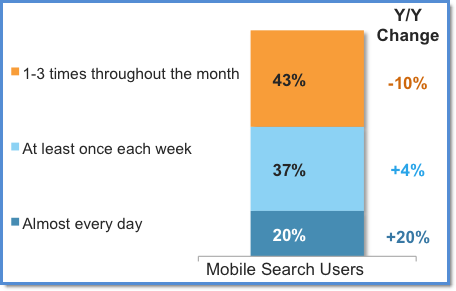 Mobile App Users...
Up to 56% of mobile users are accessing local information with apps. Although most local searches are still through a browser, that number is down slightly from last year. This is a stat that can only be on the rise with more users turning to their growing mobile devices instead of sitting down at a computer.

Online Coupons...
Online coupons are a local search success with 70% satisfaction and only 1% dissatisfied. This satisfaction led to 79% of customers buying coupons again.