Understanding and Leveraging Structured Data to Dominate Your Industry

Rich Snippets increase your click through rates!
Understanding and Leveraging Structured Data to Dominate Your Industry
We've all seen enhanced search results with additional features such as reviews, prices, recipes and events included with some search listings. These special search listings are what Google calls Rich Snippets, and they are as eye catching as a huge billboard on a quiet stretch of road.

Example Product Rich Snippet with Reviews
Those eye catching Rich Snippets not only improve traffic to your site, but that high click through rate (CTR) is also a great quality signal for Google to see.
By now you know what Google Knowledge Graph results look like - just do a search for any major company and you'll see their full details to the right of the results including their phone number, company logo, and much more.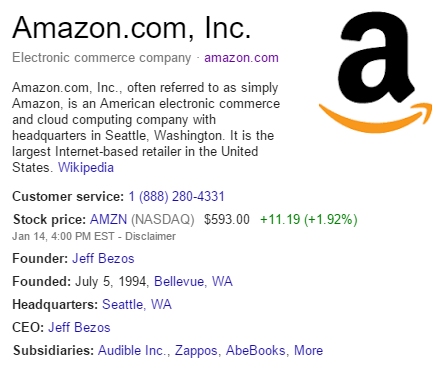 Example Amazon Knowledge Graph Listing
Rich Snippets, Knowledge Graph and other enhanced search results are all features you can get with the addition of Schema formatted Structured Data Markup of your website content.
With Schema markup you can -
Generate search result Rich Snippets, Breadcrumbs, Live Blogs and Search Boxes.
Drive data into Google's Knowledge Graph, Maps and Now results.
Improve search engine understanding of your content.
Structured Data Markup Helps Organize Your Content into Machine Readable Data
Since the dawn of computers, programmers have attempted to use computers to better understand human language; it's harder than it looks. For a quick example, how many different ways do we humans format a date and time?
January 10th, 2016
10 January, 2016
Jan 10, 2016
01-10-2016
1/10/16
This Saturday at ...