Google FINALLY Waddles Penguin 3.0 onto the Stage with Mixed Results
After over a year of waiting, and waiting, and waiting Google finally announced a refresh of their Penguin algorithm which first began rolling out on Friday, October 19th. The algorithm is a refresh of previous spam fighting signals not a new update and has been referred to as Penguin 3.0 by most in the SEO community.
Google didn't formally come out and confirm the release of the algorithm until two days later in this Google+ post by UK Google Trends Analyst Pierre Farr. Pierre related in his post that the algorithm was a slow worldwide rollout that would take several weeks and would affect around 1% of search queries. He also reiterated that those sites that had already cleaned up their spammy link profiles would benefit from the refresh while sites with newly discovered spam signals would be negatively affected.
There were some initial mixed signals from Google regarding the rollout of the algorithm refresh. Engineer John Mueller announced in a Google Hangout the following Monday that Penguin had fully rolled-out. But he was soon corrected by Pierre, who again reiterated the full rollout would take several weeks.
In fact, it wasn't until Friday, 10/24 that Twitter started to populate with Tweets from Penalty professionals noting clear documented recoveries.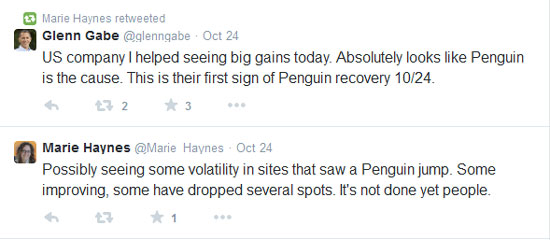 Glenn Gabe published a great analysis of the refresh based on a ten day data sample he had accumulated. The piece also covers data Glenn says points to a Panda tremor happening on 10/24 and some thoughts on when he expects the next new Penguin update to be pushed through (spoiler: Spring 2015). It's well worth a read.
In summary, as of this writing Penguin may still not fully be rolled-out so if you haven't noticed any recovery don't panic just yet. And more importantly, if you think you missed the boat on this update don't wait any longer, read our 7 Step Checklist to Recovering from Penguin from our own penalty profes...