Is Google lowering the value of on-page SEO?

Is Google lowering the value of on-page SEO?
R

ecently we took over a client site that, in our opinion, had been poorly optimized. We made substantial on-page changes to the titles, alt text, descriptions, etc. However, it's been about two weeks and NONE of the pages have budged much at all. Has Google lowered the value of on-page SEO?
Answer: This is a popular question asked in SEO Tech Support here at SearchEngineNews.com. As is the case with most questions regarding Google, the BEST answer we can give you is...it depends. Unfortunately, one example does not a trend make. Although you may have done all you can from an on-page standpoint it's very possible your problem is not on-page related at all.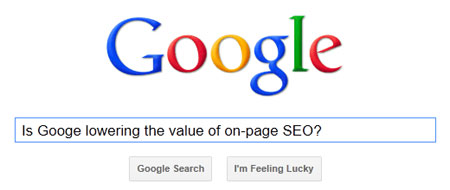 Instead, ask yourself the following: Is your content high-quality and unique? Do you have a good volume of quality, topically-relevant PageRank positive backlinks into your site? Is your site technically sound: canonical issues corrected, robots.txt file accurate, optimized internal navigation, site speed and accessibility issues audited? Have you optimized your site for social search and used a blog and social media to drive social signals into your site and page content?
...