How-to and FAQ Markup Get New 'Position Zero' Search Features
As promised, Google has continued on with their focus on Structured Data. In May we reported on their new beginner's code guide. This month they first rolled out new Search Console Structured Data reporting and now they're officially supporting FAQ and HowTo Structured Data Markup, which comes with new features in search and potential inclusion into Google Assistant via voice search.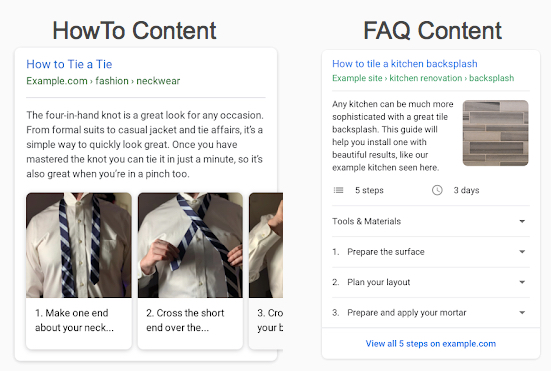 To be clear, sites have been taking FULL advantage of both of these markup types for quite some time now, as we covered in our recent article, A Pro's Guide to Leveraging 'How To' Content for Top Listings on Google. This new support means that they've created more search features to leverage this data. They originally announced they'd be adding these features during the Aug 2018 Google Dance in Singapore. So, we're only surprised it took this long.
Actionable Strategy — Yes, these Position zero results can be a double edged sword. They can offer enough information directly in the search results that users may not click into your site and at the same time - if you don't implement them then you risk your competition will and the opportunity will be lost. The goal is to give users just enough information to entice them to click into your website for the rest.

Our approach as been to implement the Structured Data to claim these dominating search results and let our competition wish they had.

The Structured Data Markup Code

The good news is that code examples are clearly posted and e...