Four Kick-Ass Free Keyword Research Methods

Four Kick-Ass Free Keyword Research Methods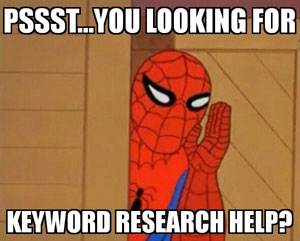 One of the most popular questions we get here at SEN is on Keyword Research and for good reason: ranking for the right keywords can literally make or break your site.
And we know that not all of our members have taken the easy way out by upgrading to SEN's Pro Support Membership and gaining access to Web CEO's SEO Toolset, which features an impressive Keyword Tool in it's arsenal.
So, it's to that end, we are going to go over three very easy (and free) Keyword Research Strategies. For the purposes of this article we are going to use the keyword smoothies for illustrative effect.
The term smoothies is very competitive, with over 116 million indexed results. As we have discussed during our monthly Mastermind Meetings and in the Skype Group, getting ranked on Google's first page and breaking into that all-important first ten results is vital to the success of your business. Because, as SEOs joke all the time...
"What's the best place to hide a dead body online?... On Page Two of Google Search Results."
Due to the competitiveness of phrases like smoothies, understanding and embracing very high-quality, long-form detailed link bait type pieces of evergreen content is essential. It's this type of content - those that seek to ask and answer all possible questions of the audience - that Google loves and tends to rank the highest in such competitive verticals.
Here is how we could use ke...